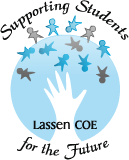 For Immediate Release:
March 13, 2017
Patricia Gunderson, Superintendent
Lassen County Office of Education
257-2197
Coming Soon (March 15, 2017)
California is releasing a new website designed to provide important information about California's Districts and Schools K-12 are performing. The "California School Dashboard", features easy to read reports on the indicators included in California's new school accountability system. In the past, we have defined "success" in schools by individual test scores; we know that a true quality education uses multiple measures to define that success. The Dashboard is part of the school accountability system and is the next step in a series of major shifts in public education to raise the bar for student learning, transformed testing and places the focus of equity for all students.
California's future success depends on tapping into the potential of all students. That's why we are leading the nation in developing a system for evaluating schools and districts that includes multiple measures of student success, including test scores, high school graduation rates, college and career readiness indicators, English learner progress and suspension rates. Looking at different forms of data provides different information to help parents and educators understand all the ways schools and districts keep students on track for success.
Equity is at the heart of the new accountability system and equity indicators are up front and center on the Dashboard. The new system provides information on graduation rates, test scores, suspension data and English learner progress disaggregated by student group. Highlighting disparities among student groups will help parents, educators and community members pinpoint specific areas in need of targeted assistance. Student group performance and progress will be used to identify schools and districts needing additional assistance from the state. The California School Dashboard will help ensure that schools keep their promise to the community to improve learning for all students.
The Dashboard is part of California's Local Control Funding Formula, which gives districts and schools more flexibility in using state and local resources in exchange for greater accountability. Districts and schools have access to the information they need to make the best local decisions about the education of children and will help schools and districts align resources to student outcomes through Local Control and Accountability Plans.
It will take time and a continued focus on improvement in order to fully implement all the exciting changes underway in California's public schools. These changes are moving schools in the right direction toward ensuring that every student at every school graduates prepared for college, career and life.
The dashboard will assist and support schools and districts so they can to identify and address their challenges and focus on the alignment of resources to student groups that may need extra support.
Please contact your child's school if you should have any questions about the California School Dashboard or have difficulty accessing the website caschooldashboard.org.